By Domestic Data Streamers
A month and a half ago, we landed at the Internet Festival of Pisa to start a conversation with its citizens on a topic that can be complex: culture and its impact on our lives.
We think the simplest and most meaningful way of defining a cultural experience is through explaining to one another how we have felt after it. We all experience culture differently, and so this space aimed to map people's experiences and connect them to those of others to create a wider picture of how cultural events leave a mark. The questions guided the visitors: four of them could be answered in an analog way (using stickers on panels), and the central question could be answered on an online survey. Once the survey had been completed, answers were printed in real-time by thermal printers inside the installation. The data gathered will be used for a study in the research project Me-Mind. This will serve diverse agents of the cultural sector to increase their impact, and will be used by Domestic Data Streamers to create an exhibition in the Estonian National Museum in 2022. Looking back, there are 3 things we learned that we would like to share with you.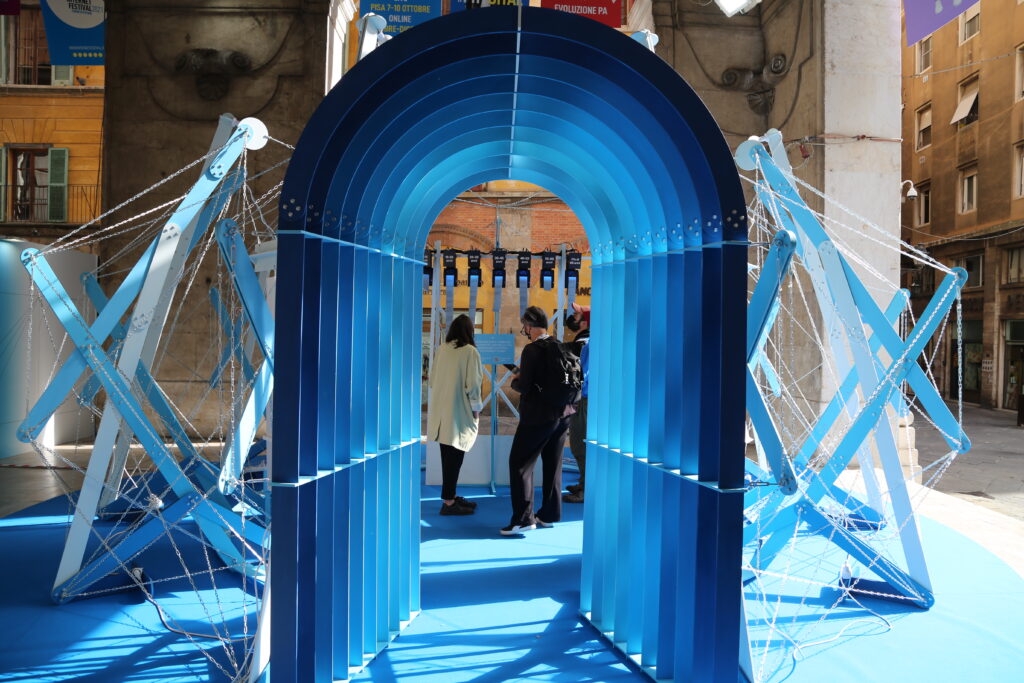 Key takeaway 1: No topic is too complex to address if it talks about ourselves.
This is not a new finding, but we think it's vital to remember. Our latest installations and exhibitions have explored violence, feminism, and water – issues as big and difficult to define as culture. After overcoming the primary challenge of narrowing down the subject, comes the one of bringing it closer to people. How do we make someone feel like a topic speaks about them? From the beginning, we have used questions as a trigger to collect visitors' experiences, which we consider to be valuable sources of information. In this case, we wanted to specifically talk about the impact of cultural experiences or products (e.g. books, museums, or music festivals). We asked people questions such as "Which of these cultural sins have you committed the most?", or "What do you value most in a cultural event?".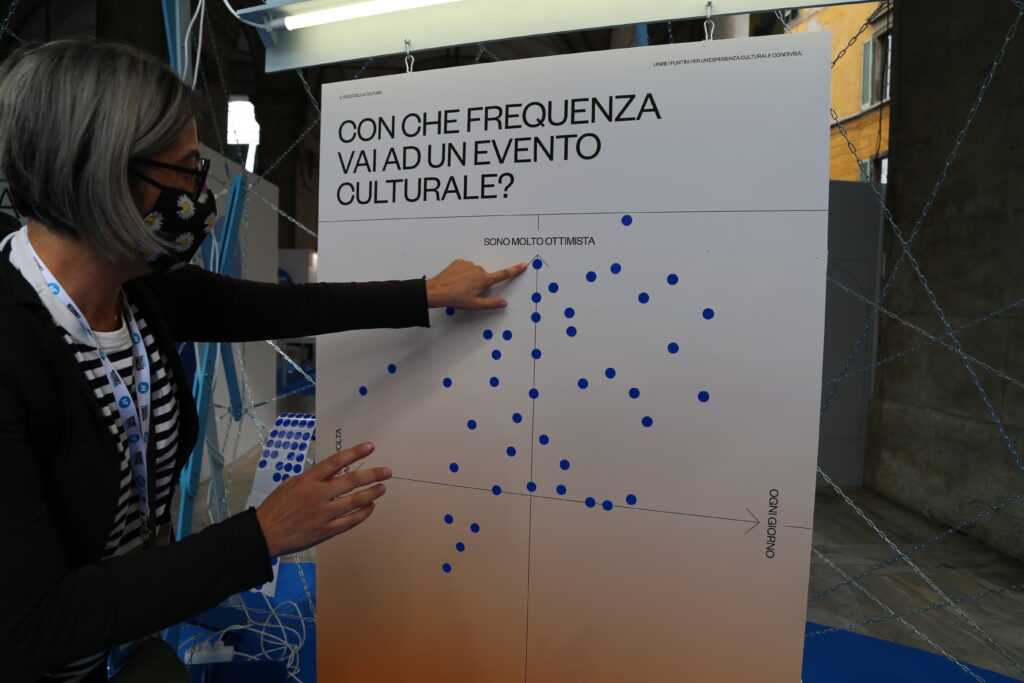 Key takeaway 2: A bold physical installation can serve as a hook for a digital experience
The challenge of this installation was getting it to serve as a hook to answer a rather long survey. We were concerned about there being too much friction or the magic fading away as visitors answered physically with stickers to then having to tap on a screen. In order to draw relevant conclusions, Me-Mind's goal was to obtain at least 200 responses to their survey.
We received 545
. The key was that we created a system in which the survey was a step forward in the journey to contributing one's testimony to a collective archive of meaningful cultural experiences, which were printed in real-time at the installation. Only if you answered the survey, accessed via a QR code on-site, were you able to leave your mark. You would then join an archive of anonymous stories which continuously grew in number throughout the festival. The
blue pavilion created by TAKK
played an important role. It was based on Fuller's concept of "tensegrity" and aimed to achieve maximum space with a minimum number of elements and weight in order to be easily shipped. It made the installation impossible to ignore, both from inside the festival and Via di Banchi. Additionally, the Internet Festival volunteers played a key role, explaining the project to visitors and guiding the less tech-savvy ones through the survey with the help of tablets.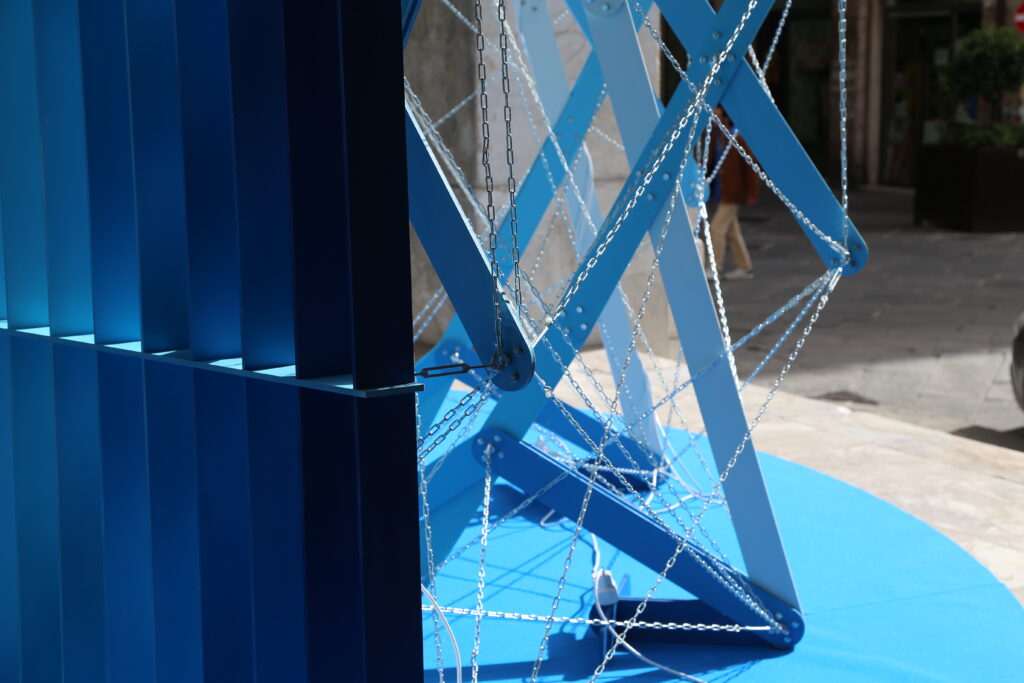 Key takeaway 3: What we take from our visitors. Our favorite thoughts from the collective digital archive of meaningful cultural experiences.
The University of Pisa is now in charge of analyzing the hundreds of responses to the main question raised by our installation: "What has been the most meaningful cultural experience that you have enjoyed so far?". We're highlighting some of the thoughts that inspire us to understand more deeply how culture transforms, provokes, excites, and teaches us new things.
Some people's most meaningful cultural experiences are not about culture, but about sharing. Cultural events or products are to some the best excuses or means to spend quality time with the people they love.
"Some like it hot' has reunited the family several times"
"A cookbook with recipes that bring people to the tables"
"Sharing my own writing with friends was an important moment of opening up to others and letting them see me"
Books, movies, and music can teach and give us more company than people During life's ups and downs, a book can be a solid thing to hold onto. Many mention these things (especially books and music) as having been with them through times of change or difficulty, or having helped them better understand themselves.
"Siddhartha read at a time when I needed to understand who I was" "The Harry Potter saga, read and seen as an adult, gave me the opportunity to read some parts of my life through a different interpretation"

A quick look at the votes made by our visitors
These simple visualization systems allow people to see where their experience is in relation to others, and to understand if there are patterns. For the citizens of Pisa, it is clear that books, films, and songs remain the cultural artifacts that generate the greatest impact. Their most frequent 'cultural sins' are looking at their cell phones during conferences, followed by falling asleep in the first 10 minutes of a film. And what they appreciate the most about culture is that it allows them to learn new things and appreciate the experience, rather than being emotionally moved or making new contacts.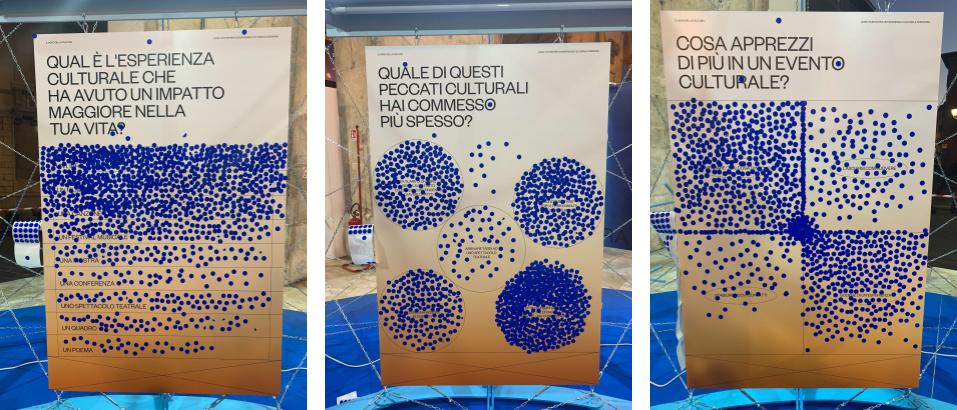 Hopefully, this brought you a bit closer to what our team got out of the Internet Festival. Now, we hope to see Me-Mind's data magic soon (by treating the collected information and drawing conclusions), to get down to work looking for creative ways to visualize them in the Estonian National Museum next spring.